Early Days 2

Now to one of our Vans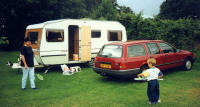 click on photos for larger image
Talgarth, Mid Wales, 1991
Although 26 years later than the Crystal Palace photo, the caravan is a 1980 Sprite Super Major and the car is a Ford Sierra the replacement to the Cortina range. We bought the Van new in 1980 for I think £2,700 and sold it in 1998 for £1,000 not a bad return after 18 years.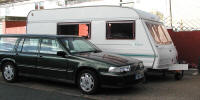 Home 1998

A rare visit home to be 'mucked' out, unfortunately we cannot keep the Van at the house.
Outfit now a 1998 Bailey Ranger 510/4 and a Volvo 960 Estate, 3litre 24v.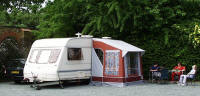 London Crystal Palace, new Site 1999
You would never think this Site is in the heart of London. Especially when the Fox visited us.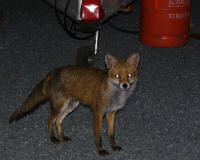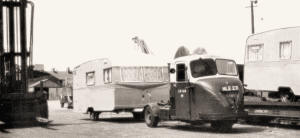 Now, here is a question, where and what and when??
.


.
.
.
.
.
.
.
.
.
.
.
.
.
.
.
.

This was a regular scene at Cardiff's Tyndall Street Goods Yard in
the 1950s. On the right, a Scammell Scarab arrives towing a new
Fairholme caravan that is to be shipped by rail.
(Fairholme Products Ltd. were based at Colchester Avenue in
Cardiff, where my Grandparents lived.)
On the left is a Shelvoke and Drewry Freightlifter which will be
used to load the caravan on to a 'Lowmac' rail wagon